Blog Home
Summertime and the Eating Is Fine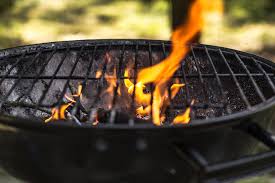 June is here and with summer in full swing the Colonial Village Blog brings members of our apartment community a post about summer eating — that's right, we've got some tips for grilling at your favorite Manchester, NH park, plus some recipes to complete a summer meal. Yum!
Grilling Tips
Preheat your grill 15 to 25 minutes before you start cooking to make sure it reaches the right temperature (and to kill any bacteria). A properly heated grill sears foods on contact, keeps the insides moist, and helps prevent sticking.
To gauge the temperature of a grill without a thermometer, place your open palm about 5 inches above the grill rack; the fire is high if you have to move your hand in 2 seconds, medium if you have to move your hand in 5 seconds and low if you have to move your hand in 10 seconds.
Food safety is a top priority, so avoid cross-contamination by using separate cutting boards, utensils, and platters for raw and cooked foods. Refrigerate foods while marinating, and never baste with the marinating liquid.
Burgers
For the best burgers, start with a high quality meat that has a 20/80 percent split of fat and lean. That 20 percent fat content is what gives the burger its flavor. Also, handle the meat as little as possible, gently shape the burgers, and use your thumb to make an indentation in the center (which will keep them flat on the grill); and, well, let's let the experts give you the rest of the scoop on grilling the perfect burger: The Burger Lab's Top Ten Tips for Making Better Burgers.
Salads
When it comes to salads, few things beat potato salad paired with burgers; they complement each other beautifully. Plus, they are easy to make and can be prepared ahead of time. We like the recipe found in the Cutestuff Cooks blog: Mom's Potato Salad (check out the other salad recipes, too). If pasta salad is more your style, we found twenty-two different Pasta Salad recipes to try. And of course there are a multitude of salads featuring lettuce and other green bits; if you want something unconventional, one of these salads may fill the bill.
Another great addition to a summertime barbecue is to add a fruit platter or salad. They are versatile, colorful, and you can do a small one for dinner or serve a watermelon full of fruit for a party. Fruit dips add a nice touch, and we've found a variety of fruit dip recipes that you can try.
We've got the burgers and salads covered. What else do you like to serve in the summertime? Please feel free to share your favorite summer recipes in the comments.